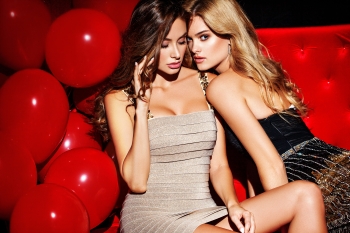 Duo Escorts can bring you twice the fun of one Manchester escort!
Okay, so you may be thinking to yourself, "Why should I book a duo escort?" You probably have a favourite from Mr Smith Escort's Gallery that you can't get enough of. Therefore, it makes sense why you wouldn't want to change from your daily routine. But if you're interested in hiring a sexy Manchester escort from one of the most professional and reliable North-West escort agencies, aka. Mr Smith Escorts, why would you want to dull down your routine that much?
Hiring a set of duo-escorts can lead to some seriously naughty scenarios that you didn't even know that you had! If you didn't know, duo-escorts are beautiful young escorts in Manchester who "pair up" to visit clients together. That means that you're getting a great deal having two escorts visit you instead of one! There is only so much that a single Manchester lady can do. However, Manchester escorts duo-ing up can bring so many threesome fantasies to life that it's a surprise that more punters don't book them!
Bring on the threesomes!
Have you ever had the fantasy of a threesome? Well, you're not the only one. Just imagine the idea that you have a sexy blonde escort kissing you whilst a curvy brunette has moved on downstairs to other areas. It's a hot thought, right? Well, having one escort on her own can't do that. However, duo escorts in Manchester certainly can.
A lot of men just want to tick a threesome off the bucket list, and we can see exactly why. It's technically seen as the "holy grail" of any sexual encounter. However, for some men, their partners may not be exactly up to bringing in another woman into their relationship. That's why you will love Mr Smith Duo Escorts. There is no jealousy or toxic behaviour between our escorts. They are there to make sure you are happy and instead will do anything you want to make sure that you have a good time. You may even get to see some girl-on-girl action if your escorts are comfortable with. Either way, a Mr Smith Duo escort will always have your needs completely in mind when they work their magic on you.
Confidence
Honestly, when it comes to the confidence of a sexual encounter, meeting with a professional duo escort in Manchester will affect both yours and the sexy Manchester escort's confidence. For one, from the moment your beautiful duo escorts walk in, you will see that they are completely at ease with each other and with you. There's something about sex that just gives people an inner flair that can be seen from miles away. Don't worry, once you have your fun with your duo-escorts, you will find that your confidence will rise.
You probably have a ton of friends and that love to brag about their sexual conquests. Well, whilst you can keep the majority of the details of your date to yourself, you can have bragging rights that you've to have two beautiful Manchester ladies at once! Your friends will certainly be impressed, and probably extremely jealous that they haven't managed to get as much action as you!
Enjoy your time with our sexy duo escorts in Manchester
From the moment one of our hot duo escorts walks in through the door, you will be practically smitten with her. But the experience will only get better when you see her even sexier companion walking in behind her. If having a threesome with two sexy escorts is every man's fantasy, why not indulge? Our duo call girls are ready and waiting for you. All you need to do is go to our duo gallery and pick the companions that best fit all of your tastes. Then you can make your booking either by phone or through our bookings page!
We are looking forward to hearing from you soon. Have fun on your duo-date.
Other Posts
How to Get Rid of Breakup Pain through an Escort Service
26 August 2020
Going through breakup pain can be difficult and stressful. At times, the pain can be so intense that one cannot figure out how the future will look. To get rid of such pain and angst, it would be better to look for Bolton escorts.